First Week, No Sleep
RZ2 Games is a great place to work. On Monday, I met just about all the employees. Of course, I remember only two names, but I'll be improving that over the next few weeks. I received my new Nokia 2630 phone, which is a newer model than the phone I had in the US (Nokia 2128i). Besides making and receiving phone calls and text messages (called SMS here), it has a camera and syncs up with my MacBook. 
I've also rented a Honda 100cc scooter to get around. Driving in Goa is fun; you never know what will happen! For example, on Tuesday, I hit the door of a bus trying to avoid running into an auto-rickshaw. Shortly afterwards, what I think was a Tata Sumo moved into my "lane" and would have ran us off the road if it weren't for Tony knocking on their window. Needless to say, Tony doesn't ride with me anymore. 
The story doesn't end there. After work, I was retracing the path we took to work because it was the only one I knew. Unfortunately, I was heading down a one-way where two police officers on a motorcycle were. They pulled me over and demanded I pay Rs 700. I later learned the fine for traveling the wrong way down a one-way is only Rs 100. I told the officers that I only had US dollars and couldn't pay. They took my International Driving Permit and told me to drive back (without a license, mind you) to my office to get 700 rupees if I wanted to get my permit back. After I was back at the office, I stashed the Rs 3000 I had on me and headed to the traffic police office with our staff assistant, Pragosh. He explained to the officers in Hindi or Konkani that the fine was too high and that I didn't have Rs 700 because I just started working the day before. After threatening to call his relative in the police department, the officers agreed to accept Rs 100 each.
We got back to the RZ2 office and I was getting advice on how to deal with police corruption from everyone. Chris, who is a fellow scooterist, offered to show me how to get home. I followed him until I ran out of gas. My phone wasn't calling out for some reason so I started walking my scooter past a group of children-beggars (one of whom was carrying a baby) and futilely tried to explain that I had no food on me and that I wasn't having the best day. Chris circled back to find me and he then asked a shop owner to siphon a liter of gas from his car for which I paid three-times the cost. Eventually I made it back home where Jesse had fallen asleep waiting for me to go work out.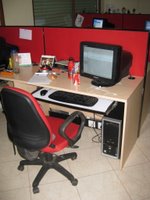 Fortunately, the rest of my week has been much more positive. The projects I'm working on at work are challenging and fun. Plus, one of the perks of working in the game industry is that you get to play games! At the end of the day, most of the office stays and plays Call of Duty, Unreal Tournament, or Warcraft. Also, I've been able to meet plenty of fun people by hanging out with Tony. 
Haircut, Rs 75 (~ $2). They use sugar to make the Coke here and it's pretty good. Also, they use quotation marks seemingly at random. For example, "Contains Caffeine". There are always extra buckets and facets in bathrooms as well as extra switches on the walls. There are some things here that you just can't get in the US. Cuban cigars and Absinthe to name a few. Not such a big fan for either, but I had to try them. I taught Lucky, the bar tender how to make an Irish car bomb using his "home-made Baily's cream".
If y'all have any questions or want to read more about something specific, let me know via the comments, email, or facebook!
Labels: india