In the beginning...
I'm in India. I have to remind myself of that fact often as it still seems unreal. I was telling
Jesse
 that it feels like a dream because nothing seems quite right. There is something off about every part of daily life here from the decentralized water heaters to the excessive amount of locks on doors and windows.
I've never travelled outside the US before, so moving to India for 2 years is like jumping into the deep end of the pool to learn how to swim. This is a trip of first for me: first time I leaving the US; first time being randomly selected by the Transportation Security Agency for additional screening; first time an airline has lost my bag (I only took the one, which basically left me with just my electronics).
As my itinerary states, I had three non-stop flights from Orlando to Charlotte, Charlotte to New York, and New York to Delhi. During the 14-hour flight from New York to Delhi, I enjoyed some Indian music and Bollywood films. They served three meals including a breakfast an hour and a half before we landed in Delhi at about 5PM Indian Standard Time (IST), which is 9.5 hours ahead of EST. Yes, 9 hours and 30 minutes.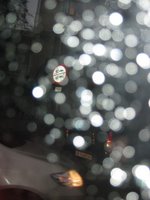 Jesse picked me up from the airport. Before I could get out to see him, I had to walk through several military personnel who were nonchalantly holding automatic rifles while chatting with each other in what I assume was Hindi. The part that made this frightening was that I didn't understand what they were saying, but they were holding automatic rifles. As I walked by them, I wondered if they had notice my miniature American flag sticking out of my backpack.
Driving in Delhi is nothing like the United States. I had seen pictures and videos from Jesse of cows in the roads and drivers weaving across lanes, but until I saw it with my own eyes and lived it, it didn't sink in just how crazy it all is. Posted speeds are rare, but are usually about 50 km/h for smaller cars and 40 km/h for larger cars and trucks. Drivers usually go twice that fast or about 60 mph on every road. Car horns and lights are used frequently to alert another driver of a cars presence. Turn signals are used rarely and mirrors aren't used at all. Furthermore, from what I can tell, you aren't required to have either on your vehicle. Rickshaws, bicycles, and pedestrians of all species share the roads with cars and trucks.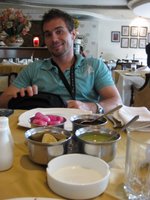 So far, the food has been very tasty. I'm thankful that Jesse has been here for two years and knows where to go. Food and drinks are much cheaper here, but I'll have an Indian salary so some items will still be too expensive. I am drinking bottled water and Gatorade. Believe it or not, I still haven't tried the Coke. After eating some traditional Indian food at a fancy, chain-restaurant called Swagath, we did stop by McDonald's for some ice cream. It was 12 Rupees (Rs 12) which is 28¢. At Swagath, we ordered some fresh lime soda and butter chicken. Jesse didn't notice, but all the employees were checking out our cameras as we were snapping pictures. It took me by surprise that people would just stand around someone and openly stare, but I suspect that is going to be one of many surprises here. 
Unfortunately, smoking is allowed in restaurants and bars and so many people smoke. Also, the restaurants and shops we visit are very nice and clean once you're in them, but from the street everything looks dirty and buildings are covered in advertisements much like a Qwik Stop in the US. Sadly, while walking back to our vehicle, several children approached us and were begging for money or food. This is India; a strange mix of wealth and extreme poverty as well as of tradition and modernity
Labels: india