Congratulations, Welcomings, and Celebrations... oh my!
First of all, congratulations to Dr Matthew Carrillo who, on Monday 22 September, officially passed the Florida Bar. Stop by
Gainesville Running and Walking
and congratulate him. While you're there, get fitted for some shoes!
New Roommate
Dylan finally arrived in Goa last Friday (19 September). After such an exhausting trip from Seattle via way of Germany and then Mumbai, Dylan still managed to stay awake and share his experiences with Tony and me over breakfast at the Marriott. He has quite the teacher—having already taught me how to properly hold a guitar—and is already contributing to projects at work. Unfortunately, he has had some problems with his computers—blown capacitors and Blue Screens of Death (BSOD). Macs are so much easier. ;-) Regardless, our Goan triumvirate is now complete.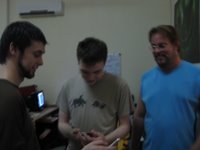 Dylan and Tony showing Chris their new iPod 3Gs
India's Coke
Yes, there is delicious Coca-Cola here. But, at one point, Coke was banned in India. Or maybe just parts of India. In fact, soft drinks have a rocky history in India. This is all anecdotal; I can't really find much on the inter-webs about it. Anyway,

Thumbs Up

is a popular soft drink that was bought by the Coke company. At the suggestion of my friend and co-worker, Wiebs, I decided to try some. It's very similar to Coke with a little bit more Indianness in it. I'm not sure what that means, but that's my opinion and I'm sticking to it. I probably won't ever buy it again, but you've got to try new things when you're in new places.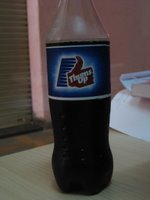 500 mL bottle of Thumbs Up


Birthday Extravaganzas
There were four birthdays this past week among our circle of friends. Two of which were celebrated in excellent style. There are photos on facebook as well as my
Picasa page
. One of them was catered by an excellent chef and had a full bar. I did manage to end up in the pool by the end of the night. It was an amazing Infinity pool which over looked the ocean. So it basically felt like I was on the edge of the world. Anyway, it would have been even better with all y'all here, so come visit soon!
Labels: india