Everyone loves Bob Marley
Just a quick note, everyone loves Bob Marley. When we're chilling by the beach, sippin on some tropical drinks, and the DJ puts on some Marley, you know you're in a good place. Everyting aiight, mon!
Kya?
Kya (pronouced like Kia, the car company) means what in Hindi. My friend Rinan offered to give Tony and me Hindi lessons. Thursday was our first lesson. We went to a local, Portuguese restaurant called Venite. We ordered barbeque pork chops, beef pepper steak, and some salads with advocados and prawns. I was shocked that they actually have advocados here as I haven't been able to find that, black beans, or romaine lettuce. Rinan has assured me that all of these are obainable here, so I'm really psyched.
Wake-up call
I've been in Goa for a little over two weeks now. For the most part, this place is great even during the off-season (also known as the Monsoon season which can last from April until September). If you're planning a visit, however, it should be sometime between late October and early March as you are guarenteed perfect weather.
So, the wake-up call? It's a rooster. You know the domesticated bird that cock-a-doodle-doos at sunrise to welcome a new day? Apparently, the Good Lord didn't see it fit to equip our neighborhood alarm clock with a brain, so it can be heard crowing at 3:30 in the morning, around 5, again at 6ish, 7, 8, noon, 4 in the afternoon, or whenever it needs to breathe.
Wanted
On Friday night, Tony and I were tired of all the drinking we'd been doing and the dancing and the karaoke, so we decided to take it easy and caught "Wanted" at the local INOX movie theater. Surprisingly, the theater was much nicer than most places in the States that I had been to. The tickets were Rs 180 (~$4.12) each, the drinks were cheap (no ice of course), and we were checked for weapons at the door.
India is very patriotic. So, before the previews started, the Indian national anthem was played. Also, intermission. That's right, half way through the movie, there was an intermission. But if you're one of those people who try to see a double-feature by returning to the lobby after the movie, you're out of luck. They have staff stationed to prevent anyone from re-entering the lobby.
We're going to the fair!
Just kidding. I mean, there was a fair. Complete with a Ferris wheel and boat-pendulum ride. In addition to these death traps, there was a variety of vendors selling cloth and jewelry.
Marriott
Jesse met Vicky at a pool party in Delhi last week. She's from London and was on her way to a wedding in Bangalore, but was first stopping in Goa. Jesse volunteered Tony and me to act as her tour guides, which was fun. We met at Britto's Restaurant right on Baga beach. The food and converstation were interesting. We met some guys from Germany who were on vacation as well as a family from the UK who were moving to Pune, India where the father was helping start a school. How great is that?
The next day we hung out at the Marriott. We ordered some margaritas and cheese burgers and enjoyed a full afternoon of lying poolside overlooking the delta. Vicky's into sunsets, so we had two nice ones this weekend and she was happy. I hope everyone from the UK is as cool as she is.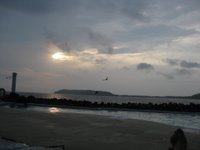 Final Thoughts
India has many problems to address. Like the US, India's education system is in need of much improvement. Unlike the US, however, not every child is given the opportunity to get an education. At the risk of exposing my naivety, I failed to make the mental connection between the lack of opportunity and the hundreds of child-beggars I've seen here. It's scary to think with a country of over three hundred million children, that most of them aren't getting educated. Just imagine the chaos that can be caused by someone's ignorance and multiply that by a couple hundred million.
Don't get me wrong, there are plenty of intelligent, educated Indians. These are the ones that have been fortunate enough to afford an education. I think education should be the top priority of not only India, but the United States as well.
Labels: india